A couple facts about the last few months: I made it through the winter more mentally intact than I have in a long time. I also went through a lot of uncertainty over the future of my career, which exhausted me enough to behave in spring as I normally do in winter: scattered, aloof and depressed.
Things have actually turned out well. I got the job I coveted the most after fielding a couple other opportunities. It feels good knowing the opportunities found me when I wasn't actively looking for a change. And I'd like to think that of late I've carried on with good humor.
But this weekend it became apparent to me that I'm having trouble connecting all the dots. It almost exclusively manifests itself at home, where I push around trying to do so many things at once that I create bigger messes than what I started with. I get overwhelmed, which makes me irritable and unable to listen to people as closely as I should.
It leads to me making stupid mistakes with the family finances and screwing up carefully made schedules because I forget certain details.
It pisses me off, because the realization usually smacks me in the face out of nowhere, usually after a period of time where I think I've been doing pretty good managing life.
You think you're fixed. But you never really are. The good and bad come in cycles. I'm fine with that. I just wish I had an early-warning system in my brain that could go off before things go too far.
This isn't a post about self-loathing. In the big picture, I like who I am. It's not a post about feeling sorry for myself, either. When I see myself sliding off track, saying so here forces me to right the ship.
Sometime, I admit, I get tired of revisiting that challenge. Trouble is, it's a challenge that's always going to be there.
You don't become a good person and stay that way. It takes constant work.
So off I go, fixing things again.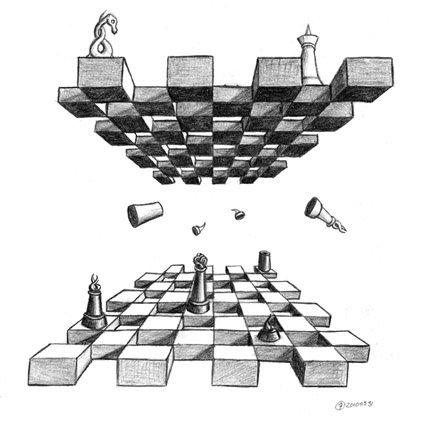 Art by Bill Fennell