Lately, I've been going through a tough period and been documenting it here because it's another journey and I like to document all my journeys.
One thing I'm re-learning on this trek is that it's important to find life jackets that keep you from drowning when the floods come. Put on the life jacket for a couple hours or a couple of days pockets to keep your head above water.
Mood music:
Last weekend while the kids camped with their Boy Scout troop, Erin and I enjoyed a full day of quality time, walking around Newburyport, watching TV and having a romantic dinner. This weekend, as I type this, we're having the first family camping trip in the new camper we were fortunate to have. We've been taking sunny walks, reading by the fire and taking life slowly.
Yesterday I went to the gun range with my father-in-law. I picked a target with a big, ugly mosquito on it. Like most people I hate mosquitoes, and I blew off a lot of steam shooting at it, trading off between a gun and a rifle.
The troubles of life aren't far away. My father is still in hospice, and managing his real-estate business for him is a full job atop my real job. But I'm visiting Dad a lot and talking about old times. I call him every day. It's a blessing to have that time with him. The business stuff is hard, but I'm figuring it out and it will be fine.
I can deal with the stressful side of those things because I'm also taking time for myself. It's easy to forget to do that when life gets chaotic. It's easy to let the harder things eat you alive. I'm grateful that through the grace of God and a lot of support from family, friends and work colleagues that I can find the pockets of solace.
Life's journey is full of peril. Remember to bring along your life jackets, and everything will be fine.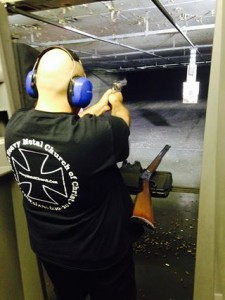 Photo by Robert Corthell