Work is crazy busy. I'm visiting my father in hospice a lot. Helping Dad tie up some loose ends on his real-estate interests has become a full-time job in itself.
It would be easy, in this crazy time of life, to skip doctor appointments, binge-eat or climb into a bottle.
Mood music:
Admittedly, my eating has been less than stellar. It's the opposite of binging at this point; my appetite cuts out a lot and I skip meals. But I haven't binged and I haven't had a drink. How I've gotten this far without those things happening is anyone's guess. Call it luck. Call it will. Maybe a little of both.
I have been making an effort to keep it all under control.
For two Thursdays in a row I had two medical appointments on the calendar. This past Thursday, for example, I had a chiropractic appointment and a psychotherapy appointment. Work was busy and I wanted that time to keep working, but I kept my appointments.
That may be why I haven't crashed and burned, even though my head feels like it's on fire when I know there's a lot of work to do.
It's been said that people like me need to take things a day at a time. When you have OCD, one day at a time is an alien concept. But I'm trying it out.
In the day-at-a-time spirit, I'm doing fine today. Tomorrow? I only know that I'll do my best when I get there.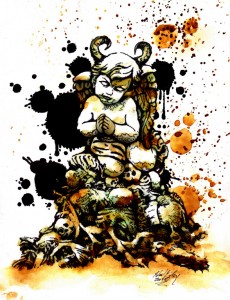 "Savage Namaste" by EddieTheYeti