Brian Krebs has been kind enough to compliment me on this blog a few times, telling me I have courage for writing about the demons. Today I celebrate Krebs' courage, which is far more formidable than anything I could ever hope to possess.
Mood music:
For years at The Washington Post (which foolishly cut him loose) and more recently through Krebs on Security, the man has relentlessly investigated online crime and written scores of groundbreaking articles on his findings.
Hackers lurking deep in the bowels of the Internet's seedy underbelly have good reason to hate Krebs' guts. This is the guy who broke news of the recent Target breach, not to mention most of the other big security stories that went mainstream in recent memory.
And the bad guys aren't happy. In the past they have:
Sent poop and heroin to Krebs' doorstep
Stolen his identity half a dozen times
Targeted his website with withering denial-of-service attacks
Triggered a SWAT team raid on his home just as his mom was arriving for dinner
None of it has stopped Krebs.
As a journalist, I always envied the man. You could say I hated him as much as the black hats of the underground. Too many times to count, I had to follow up on news stories he broke for the sake of getting headlines on my employers' sites. It always frustrated me that he could sniff out the tough stuff. It often made me feel inferior.
This was the typical newsroom conversation:
Editor: Did you see that Krebs post? We have to have something on that.

Me, in standard reporter denial mode: Fuck Krebs. He's not writing about where the security industry is headed. All he writes about is the latest cybercrime.

Editor: Yeah, and he's winning. Follow it up.

Me: Fuuuuuuuuck.
But in time, I came to appreciate and admire him. I even started to see him as a hero.
Though still a writer, I'm no longer a reporter chasing news, and that has allowed me to shed the last of the biases I may have held against Krebs.
Or, maybe more to the point, it allows me to admit something I probably wouldn't have acknowledged in those earlier roles — I was jealous of the man's tenacity and balls. Jealous with a capital J.
Krebs' boldness has captured a lot of headlines lately, including this one in The New York Times, whose editors were probably delighted to remind The Washington Post of how stupid it was to fire him.
He has also received a lot of awards lately. Tuesday, for example, the Messaging, Malware and Mobile Anti-Abuse Working Group awarded him its M3AAWG Mary Litynski Award at the organization's meeting Tuesday in San Francisco. In announcing it, the group said:
With an intense passion and impressive self-taught technical skill, investigative journalist Brian Krebs has persistently and courageously shed a rare light on the dark underbelly of the Internet that has resulted in the disruption or shutdown of innumerable cybercrime operations.
The award and comments are well earned.
Congrats, my friend. The world is a better place because you're in it.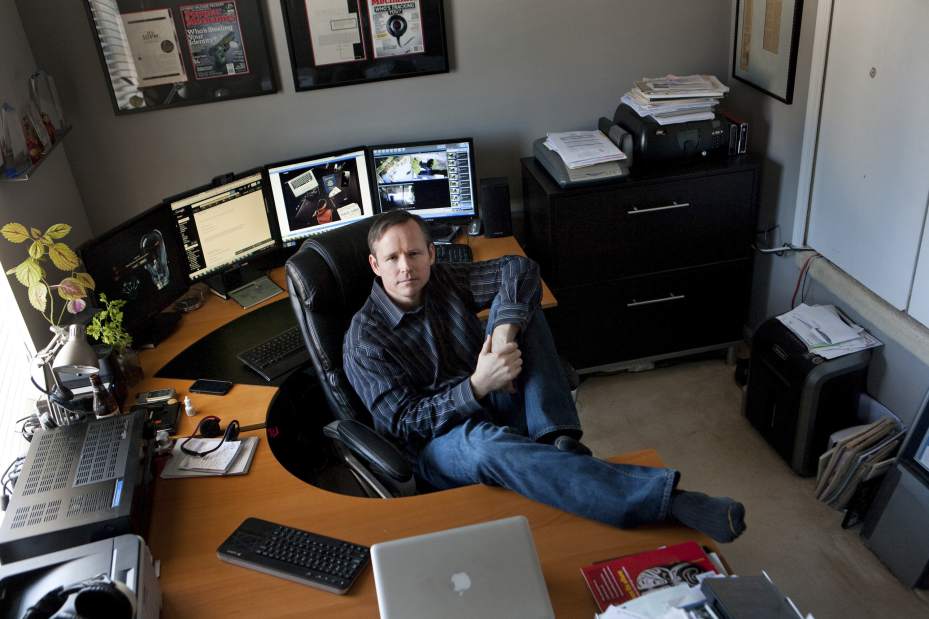 Krebs at work. Photo by Daniel Rosenbaum/New York Times News Service