Having lost more friends and family than I care to count, I've tried writing posts over the years that make sense of grief. Or, at least, how I've worked through mine.
Mood music:
With the loss of my aunt and my father in the past month, I find myself thinking about those older writings. So I assembled this list. Its first purpose is to help me keep my perspective and regain my equilibrium. The second purpose, I hope, is to help others work through their own stages of grief.
Let it suck. Don't be a hero. If you're feeling pain, let it out. You don't have to do it in front of people. Go in a room by yourself and let the waterworks flow if you have to. Don't worry about trying to keep a manly face around people. You don't have to pretend you're A-OK for the sake of others in the room. In my case, when people ask how I'm doing, I just tell them I'm working through it. It's more honest than saying I'm doing great, and I avoid language that takes me into pity-party territory.
Don't forget the gratitude. When someone dies, it's easy to get lost in your own grief. There's even a self-pity reflex that kicks in. Try to take the time to remember how awesome your loved one was. Share the most amusing memories and have some laughs. The deceased would love that. And you'll feel more at peace when you remember a life that was lived well.
Take a moment to appreciate what's still around you. Your girlfriend. Your friends. If the death you just suffered should teach you anything, it's that you never know how long the other loves of your life will be around. Don't waste the time you have with them.
Don't sit around looking at people you love and worrying yourself into an anxiety attack over the fact that God could take them from you at any moment. God holds all the cards, so it's pointless to even think about it. Just be there for people, and let them be there for you.
Take care of yourself. You can comfort yourself with all the drugs, alcohol, sex, and food there are to have. But take it from me, giving in to addictions is nothing but slow suicide. You can't move past grief and see the beauty of what's left if you're too busy trying to kill yourself. True, I learned a ton about the beauty of life from being an addict, but that doesn't mean I'd ever wish that experience on others. If there's a better way to cope, do it.
Embrace things that are bigger than you. Nothing has helped me get past grief more than doing service to others. It sounds like so much bullshit, but it's not. Whether I'm helping out friends in need or doing last month's Out of Darkness walk to raise money for suicide-prevention programs, I'm reminded that my own life could be much worse. Or, to put it another way, I'm reminded of how blessed I am.
This isn't a science. It's just what I've learned from my own walk through the valley of darkness. I've learned that life is a gift to be cherished and used wisely. I've also learned that it hurts sometimes. That's OK.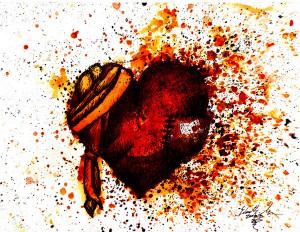 "Battle Scars" by EddieTheYeti