Here I am at another birthday. I've been telling people I couldn't care less this year. It's been a rough summer with too much upheaval, too much grief. There's not much to celebrate. But the truth is, I'm grateful to be here.
Mood music:
That I'm now in my mid 40s is surprising — in my mind, at least.
When I was sick with Crohn's Disease as a kid, I lost a lot of blood and developed several side ailments. When the OCD was burning out of control, I often felt I'd die young. I had a fatalistic view of things and just assumed I wasn't long for this world and I didn't care. I certainly did a lot to help the dying process along.
I also had a strange fear of current events and was convinced at one point that the world would burn in a nuclear holocaust before I hit 30.
When I was a prisoner to fear and anxiety, I really didn't want to live long. I isolated myself.  I spent much of my 30s on the couch with a shattered back, escaping through TV. I was breathing, but I was as good as dead some of the time.
Despite all that, I'm still here. And while it's been a rough year, particularly since March, I'm grateful. I'm grateful for my wife, my children and my career.
I'm grateful for my faith, which has certainly helped me. I'm grateful for the army of friends and extended family that has been there in times good and bad. And I'm grateful for the good luck I've had.
With that in mind, celebrating might be appropriate after all. I think I'll give it a try.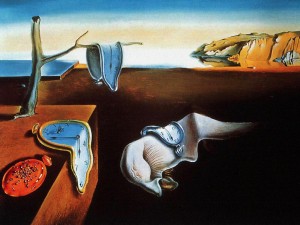 "Persistence of Time," by Salvador Dali