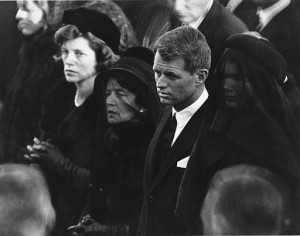 Yesterday I came across this quote from Rose Kennedy, late matriarch of the 20th-century political dynasty:
"It has been said, 'time heals all wounds.' I do not agree. The wounds remain. In time, the mind, protecting its sanity, covers them with scar tissue and the pain lessens. But it is never gone." –Rose Kennedy
Whatever you may think of the Kennedys, it's a fact that Rose lived through more than her fair share of grief.
Her oldest son, Joseph, was killed in WWII. We all know what happened to JFK and RFK. A daughter, Kathleen, died in a plane crash. Another daughter, Rose, was mentally disabled, and she outlived two of her nephews — Patrick Bouvier Kennedy, son of JFK; and David Kennedy, son of RFK.
I haven't lived through that much loss, but I've seen my fair share, including the death of an older brother and that of two best friends — one to suicide.
Knowing what that felt like and how I feel now, I'd have to say Rose was accurate in her assessment.
Time has certainly been a healer.
I've moved on with my life in the face of death, illness and other adversity. I have a wife who's beautiful from the inside out, and we're blessed with two great kids. I have a career I love, and I've gotten to do some very cool things.
The good experiences have been part of the medicine for grief, and there's even some solace within the grief, because I was lucky enough to have such loved ones in my life early on.
But not a day goes by where I don't think of the dead for at least a few minutes.
The good memories take up most of those thoughts, but it usually ends with the memory of their deaths, and that still hurts. It doesn't paralyze me like it used to, because the scar tissue is thick. It's the kind of scarring you always feel, tugging at you here and there. It's part of my mental anatomy for life.
I'm OK with that, because it's important to remember.
Mood music: