For as long as I can remember, it hung on the wall outside the front offices of the family business, right next to the timecards: a memorial plaque for the company's founder, the man I'm named for: William J. Brenner.
I always found the plaque somewhat disconcerting to look at because there was my full name and the "In Memory of …" I've gotten creeped out in similar fashion whenever I've visited the grave.
Mood music:
He founded Brenner Paper Box Co. in Chelsea, Mass., in 1922. The original building was one of the last to burn in the Great Chelsea Fire of 1973. My grandfather had died four years earlier, in late 1969, and my father had taken over the business. After the fire, he moved it to Saugus and transformed it into a store for party supplies and, later with my stepmom, he made expanded it into a business for all special occasions: birthdays, weddings, proms, you name it. The only occasion not represented was funerals, though I'm sure the main store had something even for that in one of the aisles.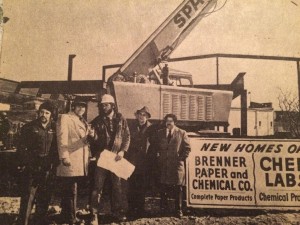 I practically grew up there, stealing the little toys we sold for birthday party goody bags and, later, hiding behind boxes in the warehouse smoking cigarettes and listening to the Mötley Crüe cassettes I liked to load into my Walkman.
I didn't take over the business for my father, but the building continued to be a family gathering point long after I had forged my path in the world of journalism. Now the company is closing and the building is being sold. My father had the plaque removed and gave it to me yesterday. I've given it a new home on my office desk.
In some ways, it's a strange place to keep it. In other ways, it's entirely appropriate.
The company I work for is one of the critical pillars holding up the Internet and making it run smoothly so other companies can safely do business there. I've long believed that the Internet played a role in the slow death of the family business. Like many mom-and-pop companies, Brenners struggled to keep customers in the stores as more people went online to buy things. But while the company couldn't survive as it had, the family lives on and has found ways to thrive in cyberspace.
My father and stepmom had already started figuring out the business potential of the Internet some years ago, and I know from talking to them that they'll still be busy with business ventures, and a lot of it will take place online.
Now the memorial plaque can sit here and observe how business is done in the 21st century. You could say it has a ring-side seat. I'm honored to be chosen as its keeper.