With another Veterans Day upon us, I want to thank our servicemen and -women for a very specific sacrifice they've made.
Mental sacrifice is always implied when we thank our veterans for the larger sacrifice of life and limb to protect our freedom. That's as it should be. Still, as someone who has never seen combat but has struggled with mental illness, I'm especially grateful to troops past and present for carrying the mental burden.
Mood music:
I have many friends who have served in the military and have seen combat. They've been shot at, lost limbs and lost buddies they served with. They suffer with depression, addiction and post-traumatic stress disorder (PTSD).
I wish they could have been spared all that. But I hope they can get some satisfaction and even happiness in knowing that they raised the profile of mental illness as a scourge to be confronted more than perhaps anyone else could have.
Soldiers are known for their courage, and when that courage extends to confronting mental maladies left by war, they are breaking stigmas that have held us all back.
Amid the last decade's War on Terrorism, we saw an alarming rise in suicide among those who came home and couldn't reconcile their former lives with where they had been and what they had seen. We saw a lot of troops struggling with depression as they came to terms with the loss of arms and legs. Many of them shared their struggles publicly and, in the process, showed us all how to move beyond adversity toward something better.
One example that sticks with me is that of U.S. Marine Clay Hunt. He survived Iraq and Afghanistan but ultimately fell to depression, taking his life in 2011 at the young age of 28.
Before he lost his battle with depression, though, he managed to help countless people suffering with the same disease. As James Dao wrote in a New York Time's blog post, "News of Mr. Hunt's death has ricocheted through the veterans' world as a grim reminder of the emotional and psychological strains of war — and of the government's inability to stem military and veteran suicides, which have climbed steadily in the decade since the 9/11 attacks."
Despite the ravages of PTSD, Hunt threw himself into volunteer work. Dao wrote that he built bikes for Ride 2 Recovery, a rehabilitation program for injured veterans. He journeyed to Haiti and Chile with Team Rubicon to help organize events for Iraq and Afghanistan Veterans of America (IAVA) and appeared in a public service announcement encouraging veterans to seek help for mental health problems.
Despite how his life ended, I hope his friends and family know how much he did to fight the mental illness stigma.
I want to thank him and all the other veterans who have taken arms against the enemy of the mind. Peace be with you all.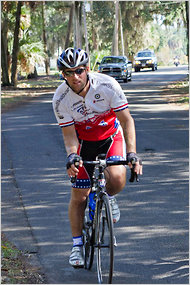 Clay Hunt participating in a 2010 Florida ride with the Ride 2 Recovery veterans organization. Hunt, who was active in various public service groups, took his own life in March 2011. Photo by the Associated Press