A few months ago I wrote a post called "Lance Armstrong Was Robbed," in which I opined that he didn't deserve to be stripped of his seven Tour de France titles. I'm back to tell you I was wrong.
Like most Americans, I'm a sucker for stories about people who overcome serious adversity to achieve great things. Those stories have given me the extra push I needed over the years to bring my own demons to heel. That Armstrong won seven titles didn't matter to me as much as the fact that he did it after beating testicular cancer. I also argued that the use of performance-enhancing drugs was beside the point; that without the raw talent and drive, all the drugs on Earth wouldn't have pushed him to seven victories. Rightly or wrongly, I still believe that.
But I've had a change of heart about him being robbed after reading about his interview with Oprah Winfrey, in which he admitted to the doping. In fact, he reportedly told her that he started using performance-enhancing drugs to gain an edge in cycling in the mid-1990s — before he was diagnosed with cancer. USA Today reveals that Armstrong engaged in a cover-up that involved "attacking anyone who implicated him."
According to the article, Armstrong's admission that he started doping in the mid-1990s is consistent with the evidence revealed in October by the US Anti-Doping Agency.
Nobody likes to be wrong. But admitting you were wrong is better than attacking those who question you, especially when it becomes painfully clear to everyone that you're covering something up.
I'd rather be a rational human being who can have a change of heart in the face of facts than a stubborn person whose pride won't allow him to see the truth.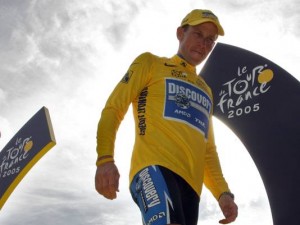 Photo Credit: Joel Saget, AFP/Getty Images