The top news story last week was about the rioting and looting in Baltimore. The discussion has been full of anger over what many see as thuggery. The violence makes me angry, too.
But there have been many rays of sunshine in Baltimore as well. The good news is there, if you know where to look. Here are some examples.
Mood music:
"10 Images of the Baltimore Riots You Won't See on TV" (News.mic)
Missing in all the riot coverage was this story about some brave souls wading into angry crowds to calm things down.
"The part of the Baltimore protests you haven't seen" (USA Today)
A lot of the protests were peaceful. But in the news world, it only leads if it bleeds or burns.
"Baltimore Communities Come Together After Violent Riots" (People.com)
After the damage, people banded together to clean up the mess and help out their fellow human beings.
"School Was Closed, But This Baltimore Dad Had An Amazing Lesson For His Son" (NPR.org)
A great story about a Dad taking his 5-year-old son on a tour of West Baltimore immediately after the riots.
"Beyond The Headlines, There's Much More To West Baltimore" (NPR.org)
A rich picture of Baltimore's poorer neighborhoods, from someone who grew up there.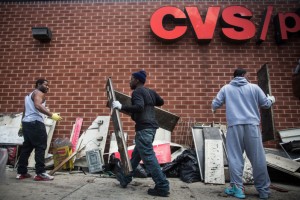 Volunteers help clean up debris from a CVS pharmacy that was set on fire yesterday during rioting after the funeral of Freddie Gray, on April 28, 2015, in Baltimore, Maryland.  (Photo by Andrew Burton/Getty Images)