Last year, I found a disgusting Facebook page making fun of someone with a serious mental illness. The site was taken down, but now there's a new page dedicated to the man locals call Crazy Mike.
I want the creator and those who like the page to know something. By embracing such a page, you are making a much broader statement: either that you don't understand the suffering a person experiences from mental illness or that you do understand but think it's perfectly fine to tear down a human being who is seemingly weaker than you are.
Mood music:
[spotify:track:55OkffR8hBBf3QnqJAU2gY]
A couple weeks ago, I got an email from someone calling me a scumbag for defending Mike. He scares women and children and should be off the street, the writer told me. What really disgusted him, though, was the idea that Mike is a Vietnam veteran who is sick because of what he experienced there.
More recently, I heard from someone claiming to me Mike's brother. I have no reason to disbelieve him, but since I haven't been able to verify it yet, I'll keep him anonymous. He actually alerted me to the new Facebook page and verified that Mike is a vet.
"Mike is indeed a Vietnam War Vet, serving as a field medic during his tour," the man wrote. "He was born in May 1950, putting him squarely in that unfortunate group that was drafted or enlisted during the height of the war."
Now that I've captured two different sides, I'll say this:
Whatever his past, the fact is that he's a human being who suffers from severe mental illness. I tend to believe that he was in Vietnam based on information I've received over time from multiple sources. But the reason for his illness isn't what matters to me. It's that he is sick and suffering and that people find it OK to make fun of him. It's not OK.
Many people have chimed in about their own run-ins with the man, and I have noticed that some folks feel genuine affection for him. As stupid and sad as it was for people to latch on to a page that simply made fun of Mike (some of the comments on the page are nasty and pathetic), I think most people are decent, have good hearts and mean no harm.
I'm no saint. I've made my share of fun of people like this, and in the rearview mirror, looking back at my own struggle with mental illness, it makes me feel ashamed. It makes me the last guy on Earth who would be fit to judge others for poking fun at someone less fortunate.
We can do better than this.
True, to those who don't know him, it can be disconcerting to walk into a store with Mike hanging around outside the door yelling at people. Sometimes, fear is justified. Part of my motivation for this post is to make more of you aware that he's harmless.
To those who want to haggle over whether Mike was in Vietnam, I'd suggest you stop getting sidetracked and remember that no matter what makes a person sick, they deserve compassion and help, not this bullshit.
The jackass who created the new Facebook page should shut it down. And the hundreds of people who liked it should feel some shame.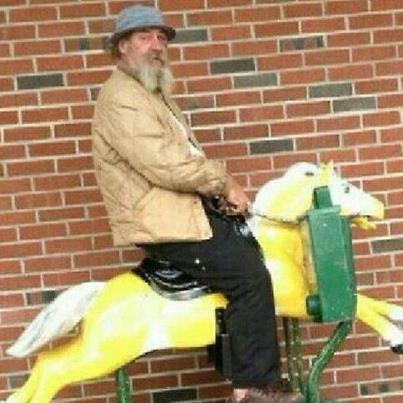 This post is an update of an early post, "A Final Word on Crazy Mike."