A few years ago I wrote about childhood friend Mark Hedgecock, who at the time was a thrice-convicted pedophile who was chatting up young girls on Facebook. He got kicked off Facebook shortly thereafter, and I lost track of him.
Unfortunately, his name has surfaced again.
Mood music:
He's been accused of soliciting and collecting child porn through his email account. According to Boston.com, the AG's office was tipped off by the National Center for Missing and Exploited Children, which discovered the email account. Investigators traced that account to Hedgecock. He was held on $50,000 bail and, if he gets back on the streets, he'll have to wear a GPS device.
Part of me feels for him, because he's mentally sick. But given his long history as a sex offender and pedophile, I believe he needs to be locked up permanently.
I feel especially bad for his stepfather. For him, this is the latest tragedy in what has been an unspeakably terrible year.
Late last year, Hedgecock's sister and mother died within a couple days of each other. Stefanie died from complications with pneumonia, then his mom suffered a fatal aneurysm.
As a kid, I was in their home constantly, from first grade straight through high school. His parents treated me like part of the family. I never knew Stefanie in adulthood, but I remember her as the baby sister. My most recent memory of their father, Victor, is from around 1986, when he scolded me for speeding around our Point of Pines neighborhood in my father's 1985 Lincoln.
Last time I was sick from Crohn's Disease was that same year. Mark came over to check on me almost daily.
As angry and unforgiving as I am about his record as a child predator, that's an act of friendship I can't forget. I also know what it's like to lose a sibling, and I remember how Mark was there for me when my brother died in 1984.
I sometimes wonder if Mark's life would have turned out differently had I been a better friend after high school. I tend to doubt it, because I was damaged and couldn't get out of my own way back then.
Sometimes people simply grow up to be monsters. When that happens, they need to be removed from society. Call me intolerant, but that's how I feel.
That said, I'm going to keep this family in my prayers. It's all I can do.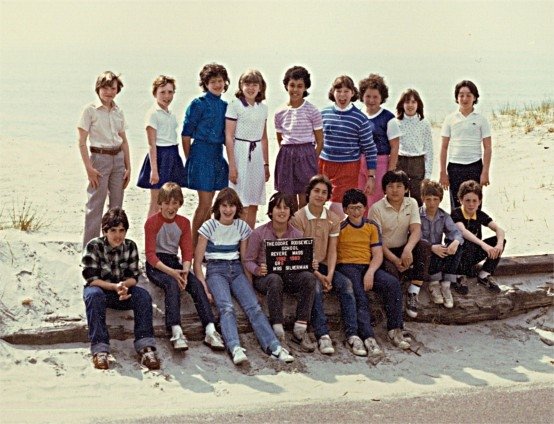 My sixth-grade class photo from the Roosevelt School in the Point of Pines, Revere, Mass. I'm at the bottom left. Mark Hedgecock is behind me at the upper left.