Before the family business was in Saugus, MA, it was in Chelsea, MA. That is, until the Second Great Chelsea Fire in 1973.
On October 14, 1973, 18 city blocks of Chelsea were destroyed by conflagration. At the center was Chelsea's Rag District, a densely packed area of buildings that stored paper and textile scrap for the junk and recycling industry. The wood-framed buildings were old and rundown. With winds of up to 50 MPH and a lack of water to fight with, the fire was able to spread. Luckily, no one was killed.
Here's a picture from The Boston Globe article on the fire. My father is on the left, crouched over the rubble that was the family business: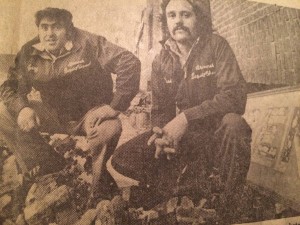 Here's a pretty good documentary of that fire. Be sure to check out how the fire spread at 20:20. Below is a newspaper article quoting my father on the disaster.