Late last year, as I was looking for a new therapist to replace the one who retired, I decided to clean the slate and get a new primary care physician, too.
Choosing a new doctor can be a difficult process. We can get comfortable with the doctors we have, even if they're not doing us any good. We might not like doctors at all, making us resistant to seeking one out.
But if we all need help maintaining our mental and physical health. When we have mental or physical issues that need frequent monitoring, doing nothing is a perilous proposition.
So I cleaned the slate and it's been good. But it hasn't been without pressure.
Mood music:
I found a therapist I believe is a perfect fit. We've been working specifically on reshaping my daily routine so that I remember to spend time on the mindfulness techniques I learned a year ago. The only problem is that it's an hour-drive to reach her. That can be a pressure in itself. But the work of maintaining all the progress I've made in recent years compels me to suck it up. Better to drive far for a good therapist than drive down the street for a shitty one.
The new medical doctor has caused me more stress. Or, more accurately, it's what he found.
Despite a diet devoid of flour and sugar, where most meals are carefully measured, I managed to gain close to 20 pounds last year. The problem was that I made adjustments to the diet but didn't up my exercise to compensate. I also got a bit sloppy with my food during business travel, and I travel a lot.
My cholesterol went up with my weight, and so did my blood pressure, to the point where the doctor put me on medication.
I spent the better part of December angry with him. I didn't like that he was trying to tell me how to eat or which piece of exercise equipment to buy. But my anger was misdirected. I was really pissed with myself for not being more careful.
My new therapist helped me to see that — proof that she's worth the long drive.
So I've doubled down: I tightened my food plan and increased my exercise. I found an elliptical in our price range and turned a corner of the garage into a mini-gym where Erin and I plan to exercise together once the rest of her equipment arrives.
I've used the machine almost daily, and I'm down 9 pounds. The blood pressure is down, too.
I'm much happier since I decided to own up to things and accept the new course set by new doctors.
As it is when dealing with addiction, the first step is to admit you even have a problem. Once you take that step, the rest becomes more manageable.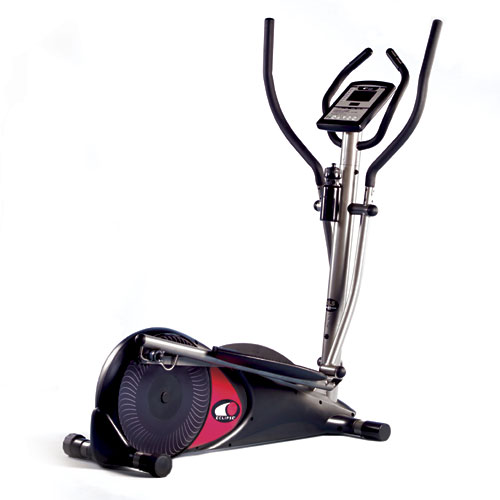 My new machine.