Mindfulness has been important for my OCD and anxiety management. When used in the right amounts, the tools are immensely helpful. But mindfulness has a dark side, too.
Mood music:
Dawn Foster points out the dangers in a post she wrote for The Guardian that asks "is mindfulness making us ill?"
In the article, we hear from a 37-year-old woman named Claire, who started suffering from panic attacks and depression when she started taking a mindfulness course. The mindfulness training dregded up childhood traumas, which in turn sparked panic attacks and depression.
I didn't start taking a mindfulness class until eight years after I began to tackle my demons. Had I taken the class at the beginning of the journey, I think I would have had the same reaction as Claire. Luckily, I had peeled back the onion layers of my past long beforehand, which saved me from a fresh deluge of bad memories.
As it was, the mindfulness class I took in 2012 was overwhelming in some spots and boring in others. The yoga and the role-playing games for conflict resolution bored me. I found that trying to spend blocks of time on mindful exercises each day was unworkable. If I was having a busy, stressful day, blocking off the 30-40 minutes for yoga and breathing exercises simply stressed me out more. The reason, I realized, was that the only remedy for the stress was to tackle the root challenges head on.
All in all, mindfulness training was good for me. I just had to find a way to integrate the techniques into my life. I learned to break things into smaller pieces. Instead of doing multiple exercises in large time blocks, I found that spending two minutes here and five minutes there worked better. Ten minutes of guitar playing helps to keep me in the moment. Breathing exercises in the car help me deal with the stress of traffic jams. These things have made a positive difference.
Some exercises I dispensed with entirely. The whole business about chewing your food slowly and silently, pondering the taste and texture with each chew? That did nothing for me.
When we're desperate to fix ourselves, we look for a silver bullet. Maybe it's a new workout craze or a mindfulness training course. In my experience, however, the bite-sized techniques always work better. When broken into pieces, the effect is less overwhelming. But I've also learned that there is no silver bullet.
If someone pitches mindfulness classes as a useful tool in a bigger toolbox, great.
But if they tell you they're THE SOLUTION, walk away.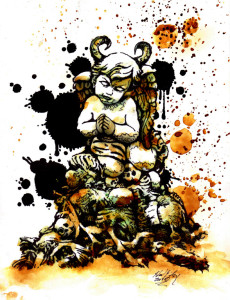 Savage Namasteby Eddie Mize, 2009