A friend of mine from Revere found a drawing I did in junior high school. I had totally forgotten about it, but once I had a look yesterday, I remembered what it was about.
Mood music:
I was asked to draw something that could be used for the Paul Revere School eighth-grade graduation program. I was a misfit back then, a fat, slovenly kid who sucked at sports and verbally fought with just about everyone. But I could draw, and my peers appreciated the skill. My drawings were one of the few things I'd get praise for. So, naturally, I drew a lot of pictures.
This one was modeled after the scholarly owl in the 1970s kids program New Zoo Review. I decided to inject my attitude into the creature's face, however, and you can see it best in his angry eyes. The picture is a bit blurry, but the eyes come through clearly enough: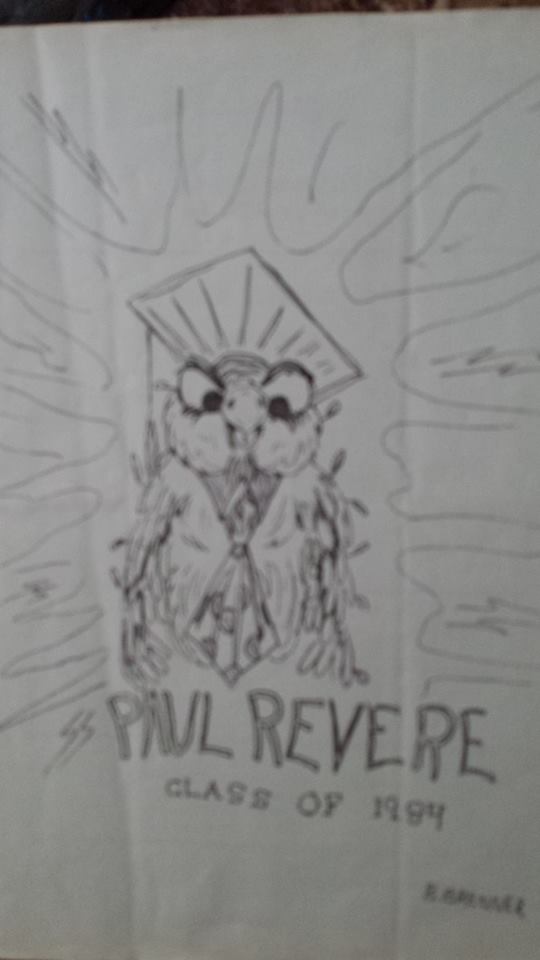 To be fair, I was just getting into heavy metal music at the time, and that had some influence on this "owl of rage." But 1984 was also the worst year of my life up to that point. My brother had just died, and it was the first of my two years at Paul Revere School, where I didn't fit in the way I had at the Roosevelt School in the Point of Pines.
One thing I remember clearly: My drawings always reflected how I was feeling. And at that time, I was feeling rage.
More on this time period in "Seeds Of Rage At The Paul Revere School
The rage lasted all through high school and beyond, though it moderated and mixed with the chaotic emotions found in all teenagers.
I eventually found God, a stable family life and a career, and today I can't relate to the look in that owl's eyes as well as I used to.
This makes me happy.