Note: This is not Dad's official obituary — just my tribute to him.
Thursday we gathered by Dad's bedside to say goodbye. He lived for three more days. That was Dad. He was a survivor, tougher than leather and stubborn to the last. Around 3 this afternoon, his journey finally ended.
Mood music:
The last two months with him were a gift. By the end, nothing was left unsaid. He knew how I felt about him and I knew how he felt about me. We got to spend a lot of time trading wits and laughing about all the trouble I got into as a kid. He seemed satisfied with how I turned out.
His mind was sharp to the end, rattling off how he wanted his various business interests wrapped up, how he wanted money invested, how he wanted me to do things that were cheaper than other things.
Dad never had it easy. He faced crushing difficulties. He ran the family business from the time he was a teenager, when his own father fell ill. After the business burned in the Great Chelsea Fire of 1973, he rebuilt in Saugus, Mass. He and my stepmom expanded the business into a global enterprise and thrived.
He endured a tough divorce, lost his oldest child to an asthma attack, and helped my sister through long periods of crippling depression.
He had a lot on his plate with me, for sure. I was sick and hospitalized a lot with Crohn's Disease as a kid. I was an outcast who rebelled constantly. I saw his efforts to make me work and earn my money as tyranny and gave him a lot of grief. But as I grew older, my work ethic kicked in and I think he thought that his efforts with me had paid off.
He was a man without a filter. He'd tell people exactly what he thought. If he thought you were getting fat, he'd say so. If you came to our house to find him walking around in his underwear, he didn't care. He was a human honey badger.
Under the tough exterior was a heart of gold. He took care of his family no matter what. He took care of his employees, too. One time, when an employee needed some extra financial assistance with a newborn baby, Dad quipped, "I'm paying for this kid and I didn't even get to have any fun."
He loved the little kids. He loved to push their buttons and be a tease. He lived life on his terms right to the end. It was a sight to behold.
I inherited the habit of loving and teasing the kids. I'd like to think I inherited his toughness, too, but I'll let others be the judge.
Thanks, Dad.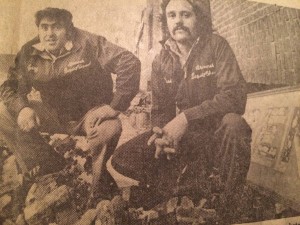 Dad and an employee stand over the rubble of Brenner Paper Company after the 1973 Chelsea fire. Within a year, he had the business back up and running from a new building in Saugus.